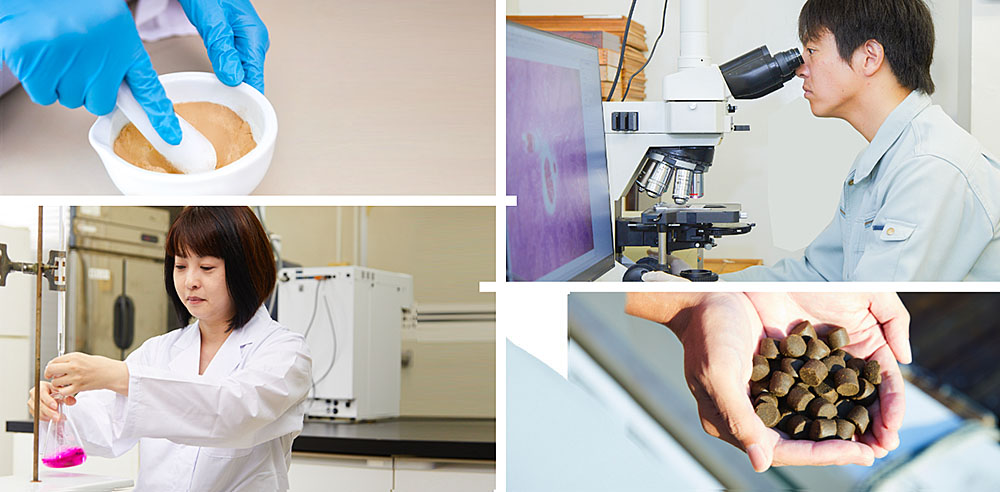 We promote the pursuit
of new value for food and
R&D relating to fish feed.
Our aim in R&D is to deliver deliciousness and affluent food culture to society. In recent years we have been devoting much effort to the creation of functional foods in pursuit of new food value and R&D relating to fish feed. Capitalizing on the technologies and data that we have accumulated so far, we will create new value and contribute to society through food.
R&D Relating to Functional Foods
Realizing an affluent food culture through food products contributing to health and beauty
Hayashikane Sangyo promotes R&D relating to food products that contribute to health and beauty.
In particular, we devote much effort to research on functional foods, such as elastin derived from bonito, water chestnut extract derived from the Japanese water chestnut herb (hishi), and ascophyllan derived from seaweed. We investigate the components and functionality of these materials and, while utilizing them in making products, accumulate scientific evidence.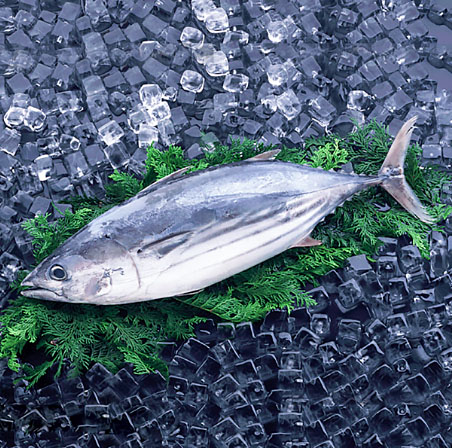 Scientifically pursuing new food value in collaboration with universities, etc.
Research into functional foods is conducted in collaboration with universities and other external organizations with the aim of creating new food value based on scientific evidence. In addition, we announce the latest research results at professional conferences and trade fairs and in related journals and actively submit patent applications.
Against the background of such factors as aging and the diversification of lifestyles, interest in functional foods supporting health and beauty is increasing more and more. We will continue our R&D to create products that meet the needs of as many people as possible.
R&D Relating to Fish Feed
Contributing to the aquacultural industry as a whole on the basis of vast breeding data
"We want to raise delicious fish." "We want to shorten the breeding time." "We want to prevent the outbreak of disease." Hayashikane Sangyo approaches R&D with the aim of not only meeting the various needs of fish farmers but also contributing to the aquacultural industry as a whole. At our Marine Products Research Center, for example, we actually raise many kinds of fish and give them prototype feed so as to accumulate related data. This data is useful not only for developing feed but also for research into aquacultural methods and fish behavior.
Furthermore, at the attached Livestock and Fish Clinic, we investigate diseased fish and so on brought in by fish farmers, the users of our feed. Such investigations are useful in the development of disease-preventative feed and in identifying the causes of disease.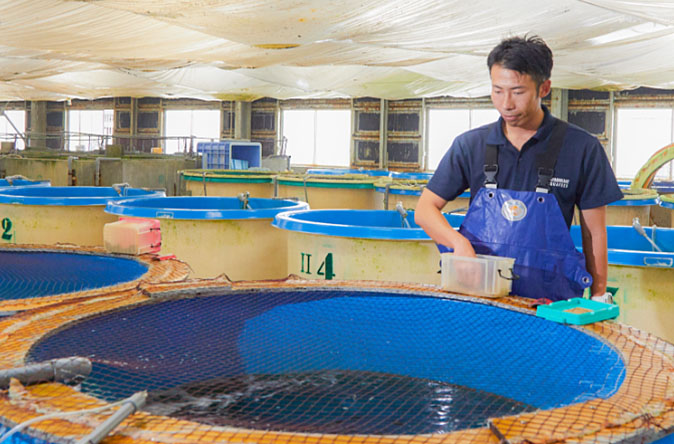 Developing feed befitting fish behavior and aquacultural needs through our original technology
One of the strengths of our R&D is that we possess numerous original technologies relating to feed. For example, there is our technology to control water activity, which was created at the time of developing feed for yellowtail fish. Thanks to this epoch-making technology, which enables optimum control of the water contained in feed, feed can be both tender and resistant to rot. We have developed various other types of feed as well, such as feed containing natural pigments so as to raise colorful red sea bream and feed with optimum nutritional balance and shape so as to make it easier to breed young fish, which have a high death rate.
In recent years we have developed, among other products, feed for tuna that applies our film technology for wrapping fish sausage and other items, which is attracting attention as a replacement for the conventional raw fish feed, and feed for eels that cuts breeding costs by including many vegetative ingredients. Going forward, we will use our original technology to create epoch-making fish feed, thereby supporting deliciousness and an affluent food culture through marine food products.